Announcement
In connection with the need to hold by-elections to the UW Senate by the University Electoral Commission on the basis of §82 of the UW Statute, I call for an electoral meeting to be held on Zoom on Wednesday, November 17, at 6:00 pm.
The purpose of the meeting is to conduct elections for one elector from the group of other academic teachers (who are not professors, associate professors, and habilitated doctors) – UKW 33/10/21 letter.
The mandate of Dr. hab. Kamil Zajączkowski from the European Center, from our Electoral District No. 3, has expired.
The right to vote in the elections belongs to employees of units belonging to Electoral District No. 3, employed at UW on an employment contract.
The voting will be conducted using the Ankieter system. The link to the electoral meeting will be sent in a separate email on Tuesday, November 16.
Ewa Kościuk
Chair of the Electoral Commission No. 3
Voting results: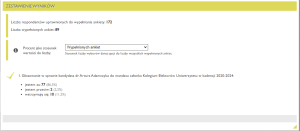 ---